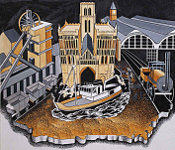 Durham County Local History Society
The Society is a registered charity (no. 235597) formed in 1964 to encourage and promote interest in the study of the history of County Durham.
It particularly focuses on recent centuries when County Durham was playing a major part in the economic and industrial growth of Britain and also making its individual contribution to the social, religious and political development of our country.
The Society attends events promoting local history, issues a range of publications, arranges occasional talks free to non-members and maintains this website.
The Journal, available free to members, includes original contributions on Durham's history, articles on sources and reviews of books.
Other publications, covering original research on a wide range of local topics, are made available to members at reduced prices.
If you have any questions about DCLHS you can contact the Secretary Dr John Banham on 01388 816209, e-mail by clicking here or write to him c/o 21 St. Marys Grove, Tudhoe Village, Spennymoor DL16 6LR
Current Subscription Rates
Due on 1st April 2016
Ordinary Members
£15.00
Students
£5.00
Joint Members (at the same address)
£18.00
Institutions
£20.00
See our Membership page for details of how to join the Society.
History & Publications
Research into the history and people of County Durham.
Our Journal Editor, Dr Mark Egan, would like to hear from members interested in writing for the Journal, who have suggestions to make about the Journal's format and contents or who wish to suggest subjects to be covered and possible authors (details on the Publications page).
Click for details of the contents of Journal 81 and Mark Egan's first editorial