TSLHS News
26th Jun 2017 at 7.30pm - John Grundy - Stones and Saints - the tangible and intangible pleasures of Durham.
24th Jul 2017 at 7.30pm - Margaret Hedley - Nineteenth Century Pit Women of Durham.
Talks are normally held at 7:30pm on the fourth Monday of each month at St. David's Church Hall, Tudhoe, DL16 6LL. Meetings are open to non-members at a charge of £2.00. See our Full Programme for 2017.
Other Events
The Cornish exhibition, including his studio, has recently opened at the Bob Abley Gallery at Spennymoor Town Hall. Beamish Museum are currently building a copy of his house and studio in the new 1950s section of the museum. To see more details of his exhibitions and examples of his work go to the Official Norman Cornish website.
15th July 2017 - Yesterday Belongs to You at Beamish Museum - A return of this popular event organised by County Durham Forum for History and Heritage.
Spennymoor Probus Club has an interesting range of talks for retired professional gentlemen.
Events at Durham Cathedral.
Events at North East Labour History Society which has its 50th Jubilee this year.
Membership
Full Members - £12.00
Concessions - £10.00
(retired, students and unwaged)
See our Membership page for details of how to join or contact the Society.
Photograph of the month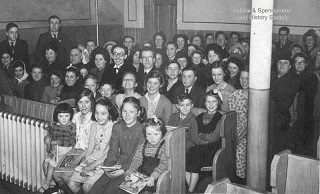 This month we have a happy congregation at the Zion Chapel in the 1950s.
Click to see a larger image. If you have any information relating to our photos or any photos we could add to the archive please email us at TSLHS.
This image is protected by copyright licensing regulations and is for personal use only, it cannot be copied, published or distributed.
HELP If you can help with our requests for information please email us at TSLHS.
The Society
The Society was formed in 1988 and its aims are to organise an annual programme of talks and outings and attend events promoting local history.
Situated on the south side of the Wear Valley, midway between the ancient settlements of Bishop Auckland and Durham, Spennymoor only came into existence during the mid 19C. Previously, eight villages, all now satellites of this small market town, surrounded the open common known as the Spenny Moor. Most of these, including Tudhoe, already existed when the Boldon Book, the North East's equivalent to the earlier Domesday Book, was compiled in 1183.
650 years later, exploitation of County Durham's mineral wealth, principally its huge reserves of coal, began to help satisfy the needs of Britain's industrial revolution. This resulted in the creation or expansion of many towns and villages in the eastern half of the County. Spennymoor is one such example of this change.
By 1840, coal pits were being sunk around the Moor, soon accompanied by houses to accommodate the ever growing number of miners. An iron and steel works quickly followed, established here to exploit the large quantities of coal now being produced around the expanding settlement. While never completely absorbing any of the villages, it is now physically linked to Tudhoe.
By the turn of the 20th Century coal and steel had long given way to service and manufacturing industries while the expanded town now also functioned more widely as a dormitory to the large coastal conurbations set around the mouths of the Tyne, Wear and Tees.
History
Research into the history and people of Tudhoe and Spennymoor.
Photographic Archive
Photo Archive - over 1,000 photographs of Tudhoe, Spennymoor and surrounding areas.